As per Governor Andrew M. Cuomo statement on 3/12/2020 Due to the Corona Virus, visitors will be denied entry to the facility unless exigent circumstances. We thank you for your cooperation. Be safe.
COVID-19 Updates
In compliance with the Department of Health and CDC Guidelines on May 7, 2020, due to the coronavirus health crisis, we will be updating our website daily with current statistics on COVID-19 patients admitted to our facility from hospitals, and any new suspected cases.
Kindly check our website daily for any changes.
We thank you for your patience and cooperation. Stay safe and healthy!
Brooklyn Queens Nursing Home is using a major disinfecting weapon – the Clorox Total 360 System – to keep its patients safe. The equipment creates a fog of cleaner disinfectant with low odor and wide surface compatibility, to kill viruses, germs and bacteria.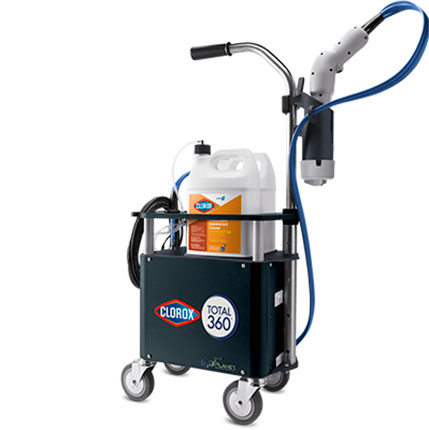 COVID-19 Safety Measures
Residents of nursing facilities are one of the most vulnerable populations that may be affected by COVID-19. Brooklyn Queens Nursing Home has implemented critical safety measures to reduce the spread of this virus.
As per the guidelines of the Centers for Disease Control and Prevention (CDC), Brooklyn Queens Nursing Home restricts all visitation beyond medically necessary personnel. In an effort to create alternative methods of communication for residents and their families, smartphones are accessible for residents to use.
Additional hired staff are available to assist residents with any technical difficulties that arise with smartphone use. These employees perform daily rounds for each unit, offering residents an opportunity to speak with their loved ones. When family members call the facility, they are updated on the status of Brooklyn Queens Nursing Home and their loved ones.
Staff shortages are evident due to illness and absenteeism. Resultingly, Brooklyn Queens Nursing Home hired additional personnel to maintain the quality of care our residents receive. Newly hired staff includes medical and public health professionals in addition to trained personnel who assist residents with daily tasks (e.g., bathing, toileting, eating) and administer medication.
Nursing and medical students also assist our staff. In addition, all volunteers help provide emotional support for our residents in light of their separation from family and interruptions to their regular activities and schedules.
Our residents are routinely updated regarding new rules and regulations associated with COVID-19. Special considerations are given to residents with cognitive impairment. To minimize stress and negative mental health impact, these residents are provided with simple talking points and as regular a schedule as possible. They are also monitored for changes in behavior.
Group activities, recreational programs, and communal dining have been suspended. Residents are supplied with a variety of recreational materials such as adult coloring pages, word searches and crossword puzzles, books, and other independent activities. Additionally, all residents can tune in to a designated channel in their room where special facility announcements, games, and movies are shown.
The facility is cleaned and disinfected according to CDC guidance using hospital-grade disinfectants. Proper cleaning supplies are always available to staff. Moreover, additional staff has been hired to clean and disinfect the facility around the clock.
All staff is provided with personal protective equipment (PPE) needed to keep themselves and residents safe, including gloves, gowns, facemasks, and eye protection. All staff members have received training on how to choose, wear, and safely remove PPE. Staff members are responsible to demonstrate competence before returning to work.
Our facility adheres to infection prevention and control measures, including hand hygiene and the use of proper PPE. Brooklyn Queens Nursing Home screens every person entering the facility. Screening includes taking temperatures and providing masks upon entry.
Additional handwashing stations are in place in each unit. Also, extra hand sanitizer stations have been installed. Safety signs are visible throughout the facility, notifying residents and staff of COVID-19 symptoms and proper handwashing steps.
In addition, Brooklyn Queens Nursing Home screens residents for fever and respiratory symptoms. Any employees showing signs of illness shall not report to work.
During this pandemic, Brooklyn Queens Nursing Home is here to reassure you that we strictly follow CDC guidelines to keep our staff and residents safe. It is a scary and critical time. In the midst of it all, we are proud of our dedicated staff.
Each member has shown tremendous dedication and commitment during this difficult time. We commend all the frontline workers for having the courage to come to work every day and give their hearts to the residents.
To all our friends, family, and the community, we wish you the best during this trying time and hope you stay safe and healthy.
Apr 14, 2023
Facility Census: 137
Total in-house COVID+: 0
Newly diagnosed patient: 0
Newly diagnosed staff: 0
Suggested Visiting Hours
Visiting hours are as follows:
9:30AM – 11:30PM
2:30PM – 4:30PM
6:30PM – 8:00PM
Visitation Policy
All visitors (including compassionate caregiving visitors) will be screened for SARS-CoV2 upon entering the facility.
Visitors must present a negative SARS-CoV2 test results one day prior to visitation if using an antigen test and two days prior to visitation if a PCR is used.
In certain situation, onsite testing for SARS-Cov2 may be available.
All visitors will be required to sign in at the security desk and complete a COVID survey questionnaire upon arrival.
All visitors will be required to wear a mask (covering mount and nose), use hand hygiene, adhere to designated visitation areas and socially distance from others in compliance with facility infection control practices.